Photo's from Amazon


From Twilight mania to Vampire Diaries, never have the undead been so adored. Vampire Knits is the first collection of knitting projects for dreamy, mysterious vampires and the fans who love them. These appealing and easy-to-knit projects range from cool sweaters to cosy pulse protectors, a fang sweater to blood bottle cozies. Gloves inspired by Twilight's Bella Swann, blood red jewellery and a beautiful diary cover are just a few of the timeless items crafty vampire fans have been clamouring for. The projects are fun to make and evoke the spirit of beloved undead characters. The book includes sections with names such as Protect Me!, Just Bitten, Vampire Style and Who's Afraid of the Big, Bad Wolf. Affordable, fun and well-designed, this book is an easy purchase.
Paperback: 144 pages
Publisher: Potter Craft; Original edition (7 Nov 2010)
Language: English
ISBN-10: 030758660X
ISBN-13: 978-0307586605
About the Author
Genevieve Miller is a Southern California native who learned how to knit when she was 12. After reading Twilight, she was inspired to design her own knits for the first time.
xxxxxxxxxxxxxxxxxxxxxxxxxxxxxxxxxxxxxxxxxxxxxxxxxxxxxxxxxxxxxxxxxxxxxxxx
Contents
Introduction
Chapter One
Project Me
Pulse Protectors
Silver Bullet and Blood Head Scarf
Bellissima Mittens
Under Cover of Midnight Hooded Cowl
Vampire Diary Protector
Love Bites ~ For Him
Chapter Two
Just Bitten
Tourniquet Scarf
Rampage Fishnet Gloves
Bloody Socks
Descent Into Darkness Wrap
Lore Hoodie
Chapter Three
Vampire Style
Countess Bathory Scarf
Palm Readers
Sittio Stockings
The Prim Reaper's Corset
Be Still My Breathing Heart Capelet
The Black Veil
Sidhe Lace Shrug
Little Fang Sweater
Chapter Four
Bloody Accents
Got Blood? Pillow
Vampire Totes
Glamour Earrings and Sangria Bracelet
Blood Bottle Cozies
Chapter Five
Who's Afraid of the Big, Bad Wolf
Paw Warmers
Shapeshifter Shrug
Werewolf Hat
Imprint Pillow
Knitting Abbreviations
Metric Conversion Chart
Special Skills
Contributing Designers
Index
xxxxxxxxxxxxxxxxxxxxxxxxxxxxxxxxxxxxxxxxxxxxxxxxxxxxxxxxxxxxxxxxxxxxxxxx
Vampire Knits is the perfect book for anyone that loves to knit and that loves anything to do with vampires. Vampires of all kinds are used for inspiration for the projects in this book. You will find more than 25 projects to make, wear and give.
I found some pictures on
Ravelry
of the patterns in this book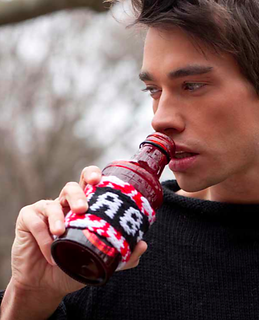 Blood Bottle Cozies
Be Still My Beating Heart Capelet
Bellissima
Bloody Socks

Countess Bathory Scarf

Little Fang sweater
Palm readers, New Moon inspired Alice Cullen fingerless mittens
Silver Bullet & Blood Head Scarf
Sangria Bracelet
Under Cover of Midnight Hooded Cowl
Vampire Knits is available from
Amazon