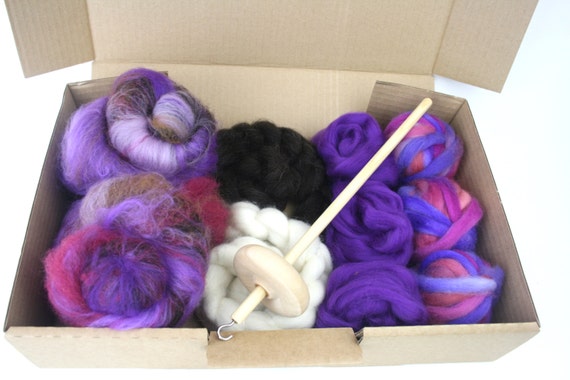 I have been wanting to spin my own yarn for sometime now and I have finally bought myself a Luxury Drop Spindle Kit from Louise at
SpinCityUK
. The delivery was really quick too, I ordered on Monday and I got my order the next day!
My Drop Spindle Kit had 150 grams of fibre, a lovely handmade wooden drop spindle with very clear illustrated instructions.
The colours are beautiful...
25g Hand Dyed/ Hand Blended roving - Beautiful variegated fibre that changes colour as you spin!
I love the mix of pinks and purples...
50g Luxury Hand Carded Batts - made from Alpaca, Merino, Hand dyed locks, Norfolk Horn and more!
25g White Merino plaited roving and
25g Dark Black/Brown Finsheep plaited roving
25g Solid Colour Merino Roving
I just love that pink colour...
A little something extra Louise gave me to play with 'Tartan' Batt...
Handmade wooden drop spindle
Just look at the beautiful colours...
I really am a happy bunny with this kit and I really cannot wait to start spinning my own yarn!
If you would like your own Luxury Drop Spindle Kit you can get yours from Louise at her Etsy shop
SpinCityUK